26 October 2023
AAS Quasquicentennial: Celebrating 125 Years in 2024

Kevin Marvel
American Astronomical Society (AAS)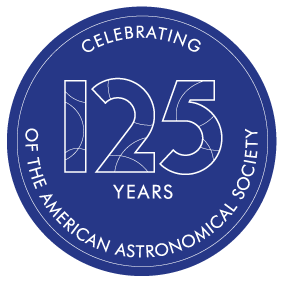 Anniversary celebrations often highlight time periods divisible by 10: 10th, 50th, 100th. We like to recognize so-called round anniversaries while ignoring the simple fact that each and every year is fundamentally important. But while celebrating once a year may be a bit much (except for birthdays!), significant milestones do deserve attention. This is why the American Astronomical Society (AAS) is taking the opportunity of our 125th year of existence to celebrate our quasquicentennial (yes, it's a real word).
In 1899, 114 individuals were signed on as the founding members of the Astronomy and Astrophysics Society of America at Williams Bay, Wisconsin, in a three-day meeting from September 6th to 8th. This gathering represented the third annual gathering of astronomers and astrophysicists in America, and the first where the organization that would ultimately become known as the AAS came into existence.
It is unlikely, but possible, that those founding members envisioned an organization that would still exist 125 years later, having blossomed over time to include more than 8,500 members in multiple countries.
At that meeting in 1899, the detailed schedule of talks was established in situ, with the talks organized into a single oral session. The founding members of AAS likely couldn't have imagined the twice-a-year conference extravaganzas of the Society today, which feature thousands of attendees, more than a dozen parallel sessions, and breakouts, splinter meetings, workshops, press conferences, posters, exhibitors, and other activities. Those founding members could not have foreseen some of the challenges that the community faces today, like encroachment on the night sky by constellations of artificial satellites and light pollution. As a result, they couldn't have imagined the broad range of advocacy efforts that the AAS undertakes today in support of astronomical research and our community.
Some of the AAS's founding members may have been hopeful that the Society would publish scholarly journals. It's unlikely, however, that they could have imagined the scope of the AAS's suite of premier astronomical and planetary science journals today, which collectively publish more than 4,000 articles each year. One of those journals — the Astronomical Journal (AJ) — predates the Society itself: founded in 1849 and acquired by the AAS in 1941, AJ will be celebrating its 175th, or terquasquicentennial (and that's a mouthful!), anniversary in 2024.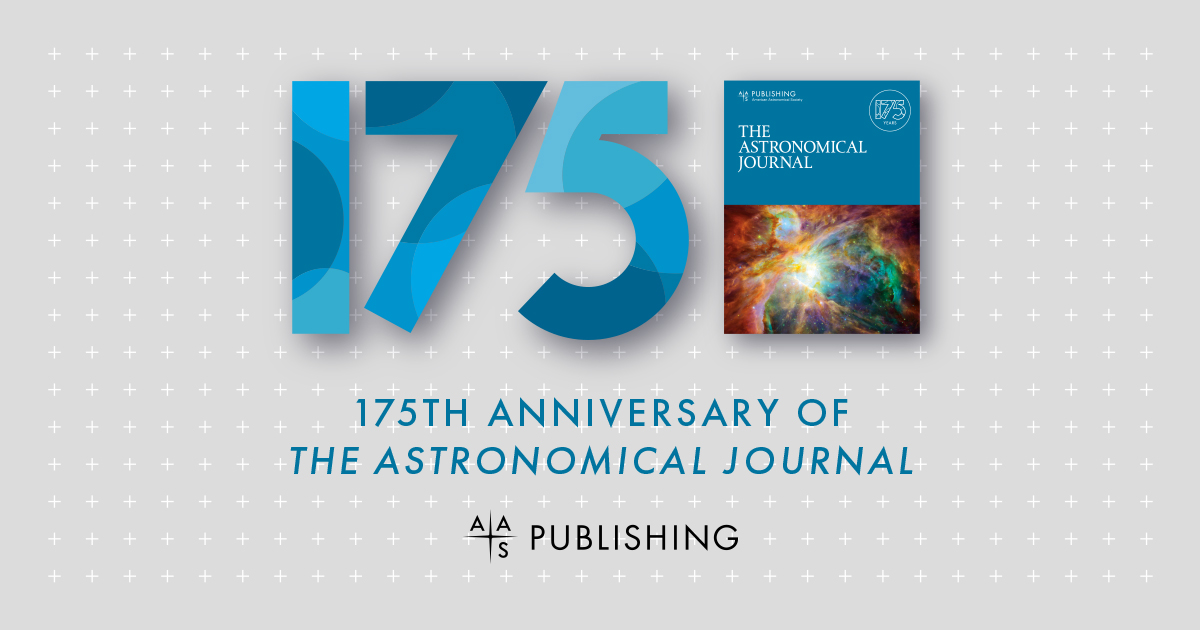 The AAS has grown and changed over the years, yet it's stayed true to its foundational purpose: to advance astronomy and astrophysics and to support those who engage in these activities. The work of the AAS is only possible due to our active volunteer leadership and the continued input and efforts of our members. The AAS exists to serve our community and our members and that can only happen through engaged participation from everyone.
During 2024, the AAS will find ways to celebrate and highlight the positive impacts the Society has had since its founding and some of the impressive work our members have accomplished during that time, whether through publication in AJ or our other journals, at our meetings, or via countless other efforts year after year.
We'll be marking the occasion with some planned events and celebrations online and at our meetings; in addition, we'd love to hear your thoughts and opinions about the impact the AAS has had on you, your career, and our community over the years. Why are you a member? What value does membership deliver to you? Why do you encourage early-career astronomers to join? What was the most memorable AAS conference for you and why? When was your first meeting and what do you remember about it? How did you feel when your first scholarly paper was accepted by an AAS journal? How have you personally given back and supported the community through your own activities and service, whether through the AAS and its events or in other ways? Let us know so we can share your views and highlight the many positive ways the AAS both directly and as a community of practitioners has provided value to our shared profession. Please email them to comments@aas.org at any time.
Feel free to use our special celebratory logos (AAS anniversary logo; AJ anniversary logo) for your own website, on social media channels, or in other ways. We will have some special materials available at our meetings in 2024 and are looking forward to the creation of an anniversary display highlighting important events for the Society and our members over the past 125 years.
Thank you for being a part of the AAS. We look forward to celebrating this special year with you as we continue to seek to enhance and share humanity's scientific understanding of the universe as a diverse and inclusive astronomical community!